What is the TOEIC ?

It is a test which evaluates your level in English. According to your score, your future school, university or employer knows whether your level is A2, B1, C1 or C2. There is no pass or fail. It is your score which determines your level, the higher the score, the higher your level is.
What does the test consist in?
It is in 3 parts:
Administrative questions (You are not evaluated on this part.)
Oral comprehension.

Part 1 Photographs 10 Question
Part 2 Question-Response 30 Questions
Part 3 Conversations 30 Questions
Part 4 Talks 30 Questions

Reading comprehension.

Part 5 Incomplete sentences 40 Question
Part 6 Text Completion            12 Questions
Part 7 Reading Comprehension
Single passages 28 Questions
Double passages 20 Questions
The vocabulary used in the test is mainly American business English.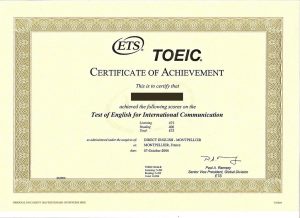 What does the TOEIC TEST Preparation Course consists of?
The course will be organized in 7 lessons. The lessons are not about grammar or oral skills practice they consist of taking a series of mini tests that we correct together in order to identify the pitfalls. The more skilled you become at identifying the pitfalls, the higher your score will become. One of the lessons will last longer in order to take a full mock TOEIC Test.
The idea is that when you take your TOEIC, you know what to expect. It is a bit like preparing for a race.
What can I do to improve my skills prior and during the course?
You need to practice your listening and reading skills. To do so you can:
Watch your favorite films and TV series in English.
Go on web sites such as the BBC Worldservice learning English, VOA (Voice Of America) learning English, CNN, News in levels etc where you can listen and read in English about very different subjects.
When will it take place?
The course will run on Thursdays between 13:30 and 15:30. It will start Thursday 7th December 2017.
How much does it cost?
It costs €110 and includes the cost of the test.
How do I register for this course?
Please contact Emilie Desreumaux: e.desreumaux@institutdegenech.fr